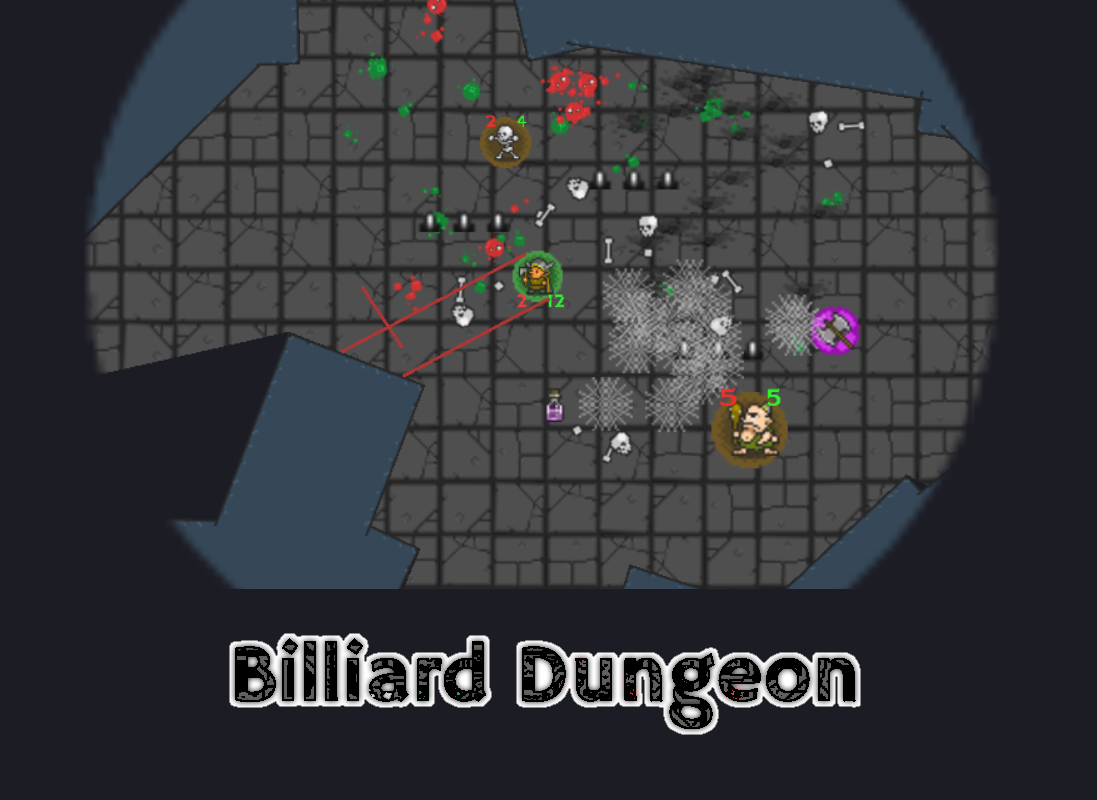 Billiard Dungeon
A downloadable game for Windows
What if your roguelike dungeon crawler had the tactical positioning of billiards instead of moving around on a grid?
---
UPDATES:
Version 1.4: Added new enemies to make the endgame more interesting and harder. Maybe too hard... but that makes it more fun, right?!
Fire Demon
Knight with Shield
Jelly that Splits
Archer
Let me know if you have any problems with the knight's shields.
---
Version 1.3: More Billiards Feel. Players have been asking for longer-range shots and more chances to knock enemies into spikes!
This update tries to do that without making the gameplay too unpredictable and sloppy. It expands the movement in the following ways:
More range for players and monsters
Boost from bouncing off any wall
More knockback effects
Enemies knocking into each other handled better
Zoomed out camera a bit
Replaced small spikes with fewer sets of double-spikes that don't come as tightly packed (less careful navigation required)
Introduced round pillars in the middle of rooms
See what you think! I think the game got a bit more interesting, but also maybe a little tougher and needs some more balance tweaks. Provide some feedback and I'll keep incorporating it in future updates.
---
Version 1.2: A total overhaul of the shot preview to make it more accurate so you can play more tactically.
Version 1.1: A few basic bugfixes from the initial launch.
Comments
Log in with itch.io to leave a comment.
Interesting idea. Looking forward to seeing where you take it.
Very cool. I really like how the different weapons change up the gameplay and aren't just math choices. It's a nice quick play, the movement feels snappy. The hit reactions feel pretty good as well, with a nice pause for effect and crunch sound.
Nice! Really great concept and a fun game. I'd say it would be even better though if it embraced the billiards idea a bit more fully and gave you a much larger maximum movement range per turn.